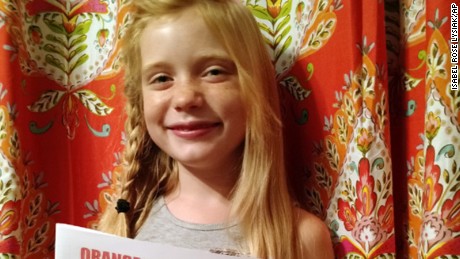 (CNN)When Hilde Kate Lysiak got a tip about a homicide in her small town of Selinsgrove, Pennsylvania, she confirmed it with the police department and then went to the scene to interview neighbors and get more information.
Her exclusive ended up going viral, but not because of the story she broke. It was her age that got people talking.
You see, Hilde is 9. You heard that right. A 9-year-old spunky, spirited girl, the daughter of a former New York Daily News reporter, who started her newspaper, she said, "to give people the information they need to know."
"Yes, I am a nine-year-old girl. But I'm a reporter, first. I report the news. And so long as there is news to report in Selinsgrove, I'm going to continue trying my best to give the people the facts," she said in her Guardian op-ed.
I'm thinking every newsroom across America could use a reporter as tenacious and dedicated as this elementary schooler already is.
But not everyone sees it that way.
After Hilde's exclusive, commenters took to social media. While many praised the pint-sized journalist, calling her a "Nancy Drew" destined for a Pulitzer, others raised questions, including whether it was appropriate for a 9-year-old to be covering a violent death.
'Parents know their kids best'
As someone who dreamed of being a reporter in high school, and who, at 29, first did the kind of gumshoe reporting that Hilde is doing at 9, I am blown away by her determination, and I salute her parents for letting her pursue her dreams.
But I know I may not represent the typical view, based on my love of reporting and my girl empowerment passions. So I raised the question with men and women in my social networks, asking them if they think it's appropriate to let a 9-year-old cover a homicide.
Parents like Terry Greenwald, a father of three grown children in Alaska, said that parental oversight would be essential if he were to let his 9-year-old report on a homicide. "There should be discussion about content. If it were my child, I would explain the evils of this world and make sure the child understood my concern, but would allow it only if it was understood that caution would be exercised," he said. "I think in such instances as a parent you have the opportunity to build trust with the child that may benefit everyone in later years."
Diana Graber, founder of
Cyber Civics
, a digital citizenship and literacy curriculum for middle school, also believes the supervision of Hilde's journalist father is key. She applauds the girl for her "positive and proactive use of digital tools" and questions why there's outrage about a 9-year-old covering a homicide but not over what other kids are doing online.
"While I can understand the concern of those who think she is too young to be online, I wonder why there is not a similar uproar over 9-year-olds with Instagram, Snapchat and other accounts who are exposed to equally, if not more gruesome, sexual and/or violent content as passive consumers, not proactive producers of media," said Graber, who is also co-founder of
CyberWise,
the digital media literacy site for tweens, teens, parents and educators.
In a video posted the day after Hilde received a torrent of criticism,
she read word for word exactly what some people said about her, including comments that she should be playing with dolls or having tea parties, not covering crime. "When I watched the video, this wasn't Jimmy Kimmel's Celebrity Mean Tweets," Scheff said. "This was a child reading what grownups (I presume some parents) were chanting to her. When will adults grow up? That should be the question to our country."
But Hilde seems to be handling the backlash with more confidence and conviction than most grownups.
"For those of you who think I need to mind my place, I'll make you a deal,"
she said in her op-ed.
"You get off your computer and do something to stop all the crime going on in my town and I'll stop reporting on it. Until then, I'm going to keep doing my job."
Originally found athttp://edition.cnn.com/